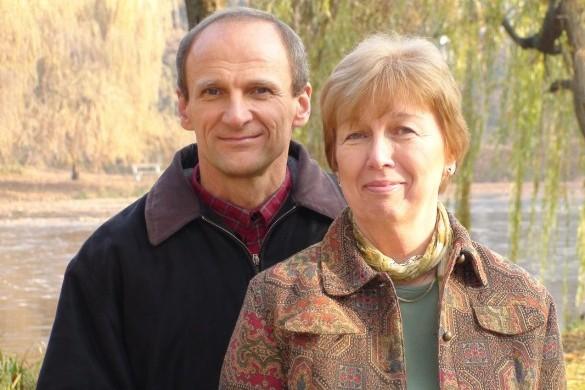 ---
Ministry Description
Béla
Technical support for the Born Again to a Living Hope drama team, street evangelism and maintenance.

Ildikó
I am responsible for the legal matters of WOL Hungary's ministry, includes customs, immigration and employment issues. I also translate at ministry events.


Learn more about the ministry in Hungary.

About Bela
I was born and raised in a Christian family with seven children. I was fourtheen years old when my father immigrated to the US. I could not see him for 11 years. During those years I realized how much I need the Heavenly Father. In the midst of many difficulties God took care of our family. I was 16 when I trusted Jesus Christ as my personal Saviour in a summer camp where I heard about God's love based on John 3:16. In the following year I moved to Budapest where after a few difficult years I found a church where I could truly experience God's love and where I rededicated my life to Him. In 1983, 11 years after my father left I was the last one in my family who was allowed to leave Hungary. God reunited our family. I got settled in Fullerton, California where in a few years I graduated in Business Management at the Fullerton College. In Fullerton the Lord led me to a wonderful Christian fellowship. Through this fellowship He renewed my desire to proclaim the Gospel. During one of my visits to Hungary, in March of 2005 I met Ildiko again with whom we had attended the same youth group in our church in Budapest where we also presently are members just as before I left Hungary. Our friendship led to marriage in November of 2005. God led me back to the land of my birth. Since our wedding with the Lord's help we both have been serving at WOL Hungary in Toalmas, where in the meanwhile I also graduated from the Bible School of WOL Hungary. It is a great privilege for us to be in the Lord's ministry together.
About Ildiko
I was born and raised in a Christian family where I could hear the Gospel from my early childhood. I accepted the Lord as my personal Savior at the age of 12 when I heard somebody's testimony about Matthew 3:2 which says: "Repent because the kingdom of God is near." The Lord spoke to my heart through this verse, and I realized that being born in a Christian family does not mean that I have been born into the family of God. I realized I needed to make a personal decision for Christ. I'm thankful that by the God's love and grace Jesus Christ became my personal Savior. In 1988, I had the opportunity to learn English in the US and also to attend the Word of Life Bible Institute in Schroon Lake, NY for one quarter. During that year the Lord laid on my heart to dedicate my life to Him for full time service if that is His will for me. After returning to Hungary I had the privilege to help to establish WOL Hungary in 1989, where I have been serving full time since February of 1990.

Family
We have been happily married since November 5, 2005. It is a great privilege for us to serve the Lord together at WOL Hungary.
Jeremiah 29:11 "For I know the plans I have for you", declares the Lord, "plans to prosper you and not to harm you, plans to give you hope and a future."
Contact Information
bdobos@eletszava.org
email: beladobos@wol.org, ildikobarbarics@wol.org

Mailing Address:
WOL Elet Szava
Toalmas
Kokai u. 2.
2252
HUNGARY