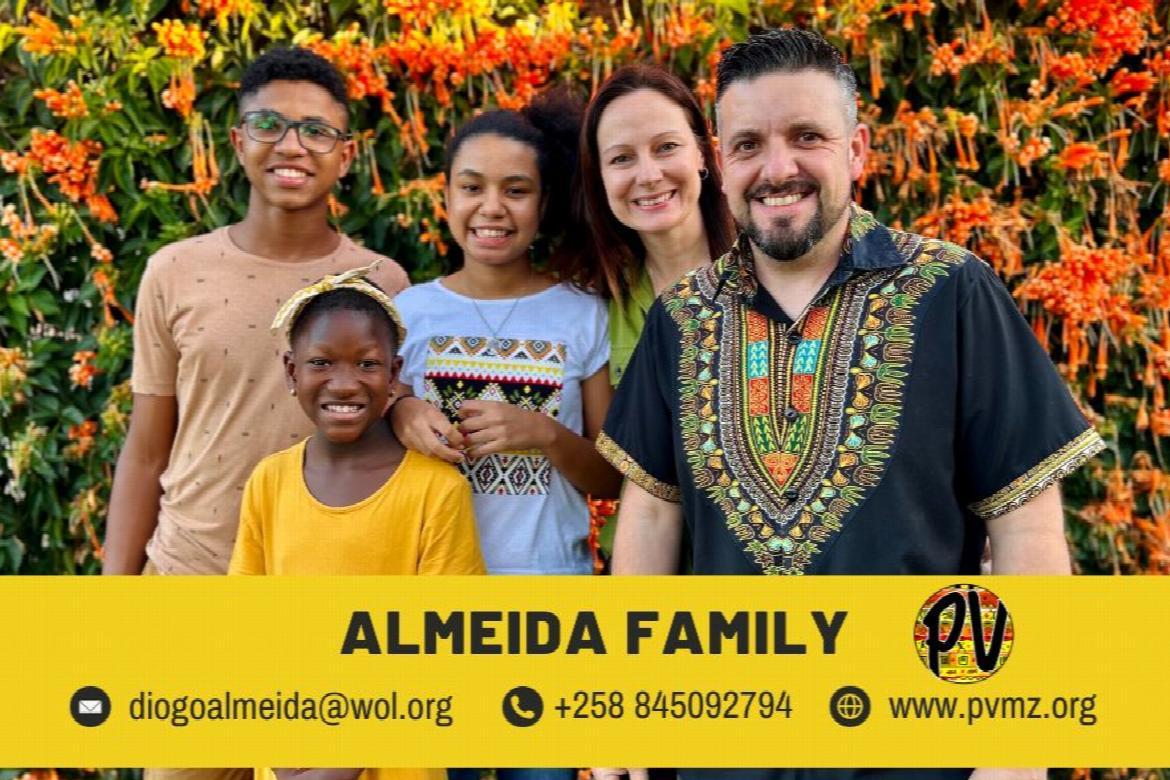 ---
Ministry Description
Bible Clubs (training and discipleship of youth leadership, preparation and holding events for evangelistic focus, sports and spiritual growth)
Camps (Preparation of the season schedule, staff training, build the structure and preach in some studies)
Acampatendas (planning and execution of camps with tents in the most remote villages, with the focus to reach more young people with fewer resources)
Resources for ministry (preparation of visual material for the development of the ministry, advertisements, etc.)
Family discipleship (Father and Mother)

Learn more about the ministry in Mozambique.

About Diogo
I am Diogo Almeida, Word of Life missionary in Mozambique. I was born in 1983 in the city of Panambi, Rio Grande do Sul, Brazil. Married in 2005 with Andreia and I have two children, Maria Eduarda and Gabriel. I come from a Catholic family, but not very practicing. I never attended church, but when I was nine years old my older brother, who was already converted to Christianity, told me about the love of Jesus and I believed in Him as my savior. I felt God taking away my load of sin.

After that experience, I did not seek God and ended up cooling down my faith, until adolescence. At that stage of rebellion and guilt, I was looking for a "life reason" in the things of the world, such as parties and drinks. Peace was not part of my life and I began to be afraid to die. Still not want to know God.

At that time, some young people invited me to play football in the church. I went and made friends quickly been participating in almost all settings. But I was living a double life, going to church without changing old habits.

One evening, returning from a party with two other young men of the church, we started talking about what Christ did for us and the life we ??were leading and how it displeased God. That night we decided to follow the truth of Christ and began to evangelize other young people of the Church. God did a great work in our youth and two years later I was going to Bible Institute to prepare myself to be a missionary.
About Andreia
I am Andreia Ebertz Almeida, born in the interior of Rio Grande do Sul, the city of Herval Seco, Brazil. I was born in 1986 and married Diogo in 2005. We have two children, Maria Eduarda and Gabriel. I come from a Christian home, but I had a personal encounter with Christ when I was 14 years old in a youth congress of my church. In fact, before believing in Christ as my Savior, I was very impacted by the transformation that Jesus did in the life of my brother, it was like a "salt" that left my heart thirsty for the gospel.

From my conversion, I began to get involved with various ministries in the church, such as: Sunday School, Bible Club with teens, youth programs and children evangelization programs in the poorest neighborhoods. At that time I met Diogo and started dating.

After the Diogo completed the first year of the Word of Life Bible Institute, we got married and ended the course together. Since then we have served the Lord with Word of Life, for seven years in São Paulo - Brazil, and since 2014 in Mozambique
Contact Information
diogoalmeida@wol.org
Skype: Diogo Almeida
258 822451126
diogo@opv.org.br