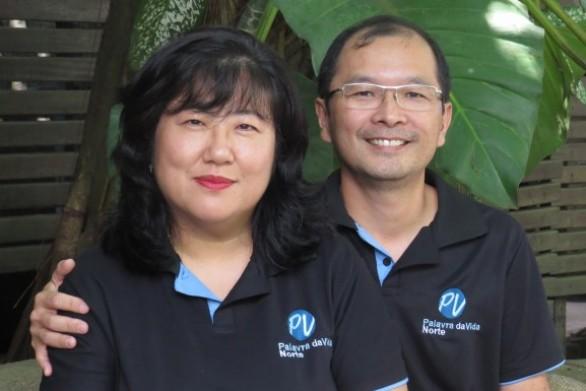 ---
Ministry Description
Noboru:
Study coordinator at the Word of Life Seminary, discipleship with students;
Professor of classes (Greek; Hermeneutics; Bible Study Method); .
coordenador do Setor Estudo no Seminário, discipulado com alunos; aulas (Grego; Hermenêutica; Método de Estudo Bíblico)

Mali:
Discipleship with Students; Practical Course lessons (Cooking and Crafts);
Various ministries: Lodging (VIP room); Ministry Alumni
Discipulado com Alunas; Aulas de Curso Prático (Culinária e Artesanato); Hospedagem (quarto VIP); Ministério de Ex-Alunos.

Learn more about the ministry in Brazil Southeast Sao Paulo.

About Noboru
I was saved at 9 years old in a children's camp. I heard many missionary stories, but did not surrender during my adolescence. God confirmed the call after a conflict between work and ministry in the church. I realized that God had called me to the ministry and not to secular work. After 10 years of secular work, I started training at the seminar and I am now working in the training of missionaries, pastors and leaders in general.

Conversão aos 9 anos em acampamento de crianças. O chamado se deu ao ouvir histórias missionárias, mas na adolescência esfriou. Deus confirmou o chamado após um conflito entre o trabalho e o ministério na igreja, onde vi que Deus havia me chamado para o ministério e não para trabalhar naquela área. Após 10 anos de trabalho secular iniciei o treinamento no seminário e hoje estou atuando no treinamento de missionários, pastores e líderes de um modo geral.
About Mali
I was born in Christian home, converted as a child by my father. The call was made at age 21 when I lived in Japan. I returned to Brazil and studied at two seminars and today serve the Word Organization of full-time life along with my husband and children.

Nasci em lar evangélico, converti quando criança com meu pai, o chamado se deu aos 21 anos quando morei no Japão, ao retornar ao Brasil, fiz dois seminários e hoje sirvo a Organização Palavra da Vida de tempo integral juntamente com meu marido e filhos.
2 Timothy 2:2 And the things that you have heard from me among many witnesses, commit these to faithful men who will be able to teach others also.
Contact Information
noborumali@hotmail.com
Skype: noboru.mali
Josué Noboru Saito, Mali Sato Saito, Timóteo Jin Saito, Vitor Yuki Saito

Av. Joaquim Pereira de Queiroz, 450 CEP: 68795-000 Benevides-PA

011-55 (91) 98974-2222
011-55 (91) 98974-1000

noborumali@hotmail.com