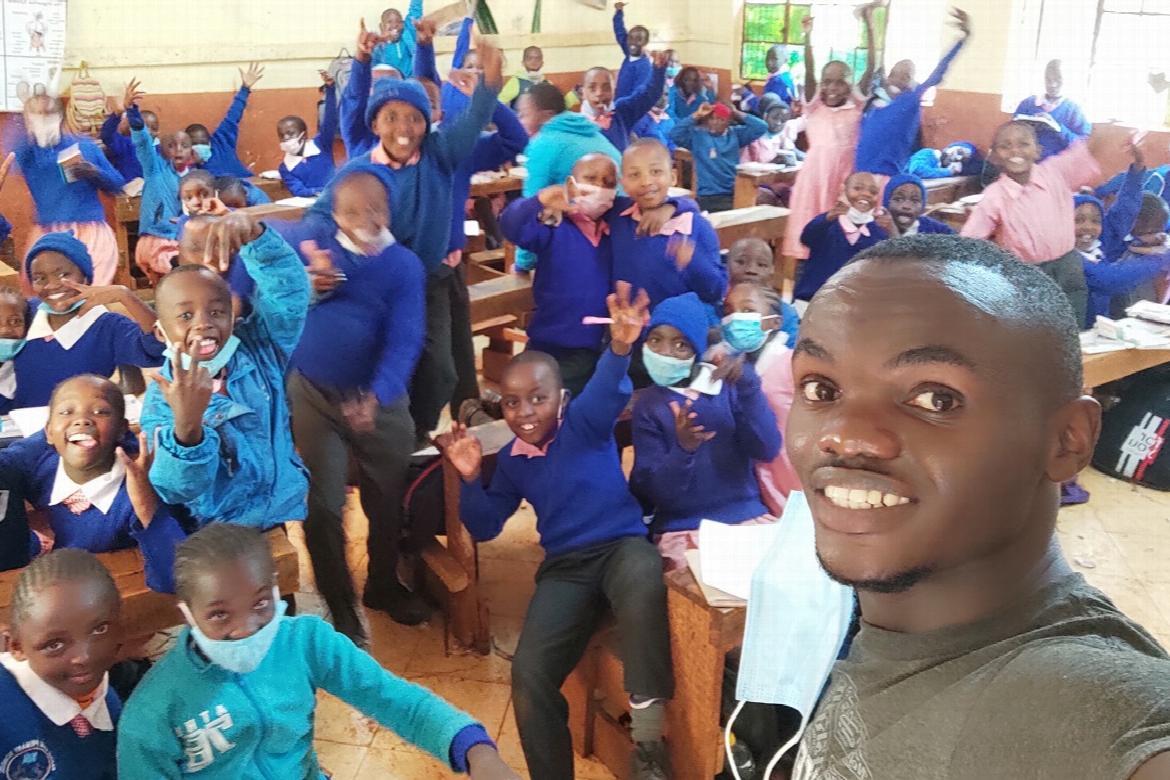 ---
Ministry Description
I serve in Word of life Kenya, Kabete as a Camp registrar and also in Local Church ministry.

Learn more about the ministry in Kenya.

About Peterson
I was born in a family of three in which I was the second born, our firstborn is a girl called faith and our last born is a boy called Daniel. When I was young, I don't remember me and my sister not going to church, even if it was raining my Mum used to take us to church. The only times when I missed the church, is when I was running away to go and do other things with my friends. In other words, I would say that our parents were bringing us well. The sad thing is that, I used to attend the church from Sunday school to when I was a Teen but did not have any relationship with God at all, I was just but a church goer. I remember one day in church when our Pastor was preaching about God's love, and after he was done he asked if there was someone who wanted to be called a child of God by being forgiven his sin. I got this strong conviction that made me realize how far I was from God and how much God loved me, but I still resisted because I was afraid about what people were going to say about me since majority of them knew that I have been in church for many years. For being concerned about what people were going to say about me, I never did anything but remained the way I was. I remember after a week, our pastor together with other church leaders decided that people were going to attend membership classes so that one can be recognized as a church member. As a young man (teen) who used to go to church from childhood, I took the membership card so that I can fill it and then return it. I filled the form and when I was in the middle of answering the questions which were there, I came across the question that was asking "Are you born again". By reading that statement, the conviction became even more stronger, but still I had more fear in me. The day came when we were supposed to return those cards, so I took my card back to church where I found my Pastor and I gave it to him. When my Pastor received the card he realized that I had left one question un answered and that was "Are you born again" . He took his time with me in his office to explain to me the gospel and that's when I believed in Jesus Christ as my Lord and savior. When I joined high school, I decided to be different from others and to understand that I am a child of God. I knew God was calling me to talk about Him to my peers. I took advantage of that by sharering the gospel with my friends in school. Many are times when I tried to run away from that calling but God kept on bringing me back to Himself. And since I was in leadership, both in Christian Union, and also as a class representative, I saw how young leaders in school were struggling and that is because they didn't have a person who was walking with them. That's when I saw a need of going back to high schools and train those leaders.

2 Timothy 2:2 And the things you have heard me say in the presence of many witnesses entrust to reliable people who will also be qualified to teach others.
Contact Information
pbarake@wol.org
petersonbarake@wol.org
+254 717839247
PO Box 29120-00625
Nairobi, Kenya