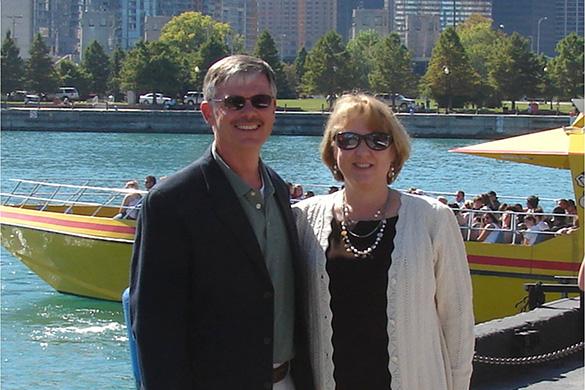 ---
Ministry Description
Ron began taking work crews on short term missions trips while serving with Word of Life (WOL) in Chile. When he saw the results of taking people to the mission field, he knew the Lord could use this to challenge the hearts of many people and help our WOL missionaries all across the world. They served in Chile from 1986 through 1996 when the Lord brought them back to serve the USA. In 1997, Ron became part of the WOL Short Term Mission department, a ministry that helps more than 1,700 WOL missionaries and our camps around the world. Ron has been on around 200 short term trips since 1997, worked in 22 counties, traveled with thousands of wonderful mission minded volunteers and has seen many lives encouraged and challenged. It is their desire, as they share the needs of the WOL ministries and staff, that people would join their WOL team and family. "Together we can serve these missionaries fulfilling ministry and personal needs around the world." Today, their 4 children have families of their own and Ron & Pam have 12 delightful grandchildren. "As we have seen the Lord provide over the past 38 years with WOL, we are confident that He will continue to supply our needs. Would you pray about joining our support team? We would love to share with you about how, together, we can serve our missionaries around the world with Short Term Missions." The latest work trip report is available for viewing on our news letter link or you can visit www.GO.wol.org for details on future trips! Plan your next "Vacation with a purpose" with Short Term Mission Work Trips.

Learn more about the ministry in the US Office.

About Ron
Ron came to know the Lord as his Savior when he was twelve through an invitation to attend a Vacation Bible School. It was there that he understood that Jesus died for his sins and that by accepting His gift of salvation would be born into God's family. Ron dedicated his life to missions service at fifteen years of age and graduated from the Word of Life Bible Institute in 1973. Pam and Ron attended the same church as teenagers and were married May 17, 1975. After a few years of teaching the teens in their church, the Lord sent them back to school, to Citadel Bible College in Ozark AR. While there, the Lord impressed on both of them the desire to serve Him full-time on the mission field. In 1982, they were accepted with WOL and commissioned to serve in Chile. They packed their things and headed south with their four children on a wonderful adventure. Ron worked in the construction of the 10 acre camp property, drove the bus for the evangelistic campaigns, and worked in their local church and Bible Club.
About Pam
Pam was invited to church by a friend when she was nine, understood her need of salvation and trusted the Lord as Savior. She committed her life to the Lord at Camp Patmos when she was twelve then went to Prairie Bible Institute (1973-1974) for one year. She studied at Citadel Bible College in AR while Ron was in Collage. In Chile, Pam home schooled their four children, worked with the WOL summer camping staff and served as the leader of the ladies group at church. She truly is a great wife, mother and tremendous part of the ministry team. When they returned from Chile, Pam taught Spanish at Delaware Christian School in Delaware OH for 10 years. She organized 10 "Spanish" mission trips for the students and has touched the lives of 100's of students who still keep in contact today. After a 6 year leave from teaching she was asked to return in the fall of 2015. She loves teaching Spanish but most of all loves instilling Christian values in the lives of the students. Her heart for the Lord is evident in all she does. The mission trips continue as well as the impact of ministry to others
1 Cor 15:58 "Therefore, my beloved brethren, be ye stedfast, unmoveable, always abounding in the work of the Lord, forasmuch as ye know that your labour is not in vain in the Lord."
Contact Information
RonMorton@wol.org
PO Box 42
Sulphur Springs OH 44881
1-419-569-1226 cell